Blue Devil Athletic History
What is the name of the school song and when was it written?  Hail to the Red and Blue, 1922
Our school colors, the red and the blue, were decided in 1893 by Vic Littig, and were based on the crimson red of Harvard and the blue of Yale.
Before the Blue Devils became the official mascot of DHS some of the other names given to the sports teams were the following: Moon Men, Red and Blue, Hilltoppers, and Imps.
Did you know that there was once a rifle range located in the high school where students could practice their shooting skills for the Boys and Girls Rifle Club?  The range was located in the dungeon where the pool was eventually built.
Overall Davenport/Central has won more State Championships than any other school in the State of Iowa.
Davenport/Central alums have to their credit the following accomplishments:  MLB All-Star; MLB World Series Champion; NFL All-Pro; NFL Super Bowl Champion; U.S. Summer Olympian; NCAA Champions in football and wrestling; and PGA U.S. Open Golf Champion.
Davenport/Central Coaches in the Iowa High School Coaches Hall of Fame:  Mike Dardis, Ira Dunsworth, Jesse Day, Don Grensing, Jim Fox, Jack Leabo, Anton "Butch" Stolfa, Paul Moon, Bill Freese, Randy Peters, and Jay Ryan.

Baseball
Davenport/Central ranks second all-time with 11 State Championships in baseball (includes spring and summer). State runner-ups a total of 8 times.

Davenport/Central has 12 spring and 12 summer state tournament appearances. Davenport/Central won back-to-back Spring Championships 2 times and back-to-back-to-back 1 time.
State of Iowa Baseball Hall of Fame Coaches/Players from Davenport/Central include: Bill Freese (589 career wins), Jack Leabo, Gene Baker, Dick Hoeskema, Dave Hoeskema, Tom Mullen, and Gene Makeever.
Former Davenport/Central athletes to become professional baseball players include:
Gene Baker, Chicago Cubs, Pittsburgh Pirates
Dick Hoeksema, Detroit Tigers farm system
Larry Rathje, Minnesota Twins farm system
Wayne Rettig, San Diego Padres farm system
Dick Meier, Oakland Athletics farm system
Tom Mullen, Chicago White Sox and Kansas City Royals farm systems
Dave Hoeksema, Montreal Expos and Kansas City Royals farm systems.
Bill Sandry, Chicago White Sox and Chicago Cubs farm systems.
Vince Jackson, Los Angeles Dodgers farm system.
Coach Bill Freese was a minor league pitcher as well.
Gene Baker was the first black player on the Chicago Cubs' Major League roster. He was the first black man to manage an affiliated team in the Minor Leagues. And, for two innings in September 1963, he was the second black manager in the Major Leagues.  By the time Baker, then 29, was activated and made his debut on Sept. 20th, he was shifted to second base, where he and Banks became the first black double-play combination in the Major Leagues. The pair, also roommates, was nicknamed "Bingo and Bango." Gene won the 1960 World Series with the Pittsburgh Pirates.
Tom Mullen recorded the 2nd most strikeouts in a game (State Tournament game) with 22.  He recorded 176 strikeouts for the season.  He also has 13 strikeouts in a State Championship game (15 is most all-time).  He holds the record for the most strikeouts in a State Tournament.
John Young is one of 11 pitchers to throw a one-hitter in a State Championship game.
Vince Jackson batted .591 during in a single season.
Davenport native Gene Baker did something no African-American had done
before him: he managed a minor league baseball team.

In the summer of 2023 the baseball field at Brady St. Stadium was named in honor of Hall of Fame Coach Bill Freese.
Basketball
State Championships - 9

Davenport Central holds the record for the most victories at the State Basketball Tournament at 51. 
The Blue Devils also hold the record for the most State Championships at 9. Davenport High School played in six consecutive Iowa state championship games.

Davenport/Central has appeared in the State Basketball Tournament 23 times.  Hall of Fame Coach Paul Moon led the Blue Devils to the tournament 16 times and won 7 championships.  From 1951-1953 DC won 60 straight games.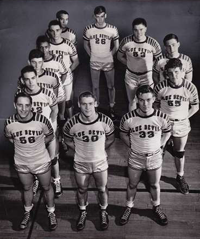 Pictured: Gene Baker (fourth person back on left), Jack Spencer (#26), Dick Meier (#30)
Jack Spencer became the first athlete to be 4-time basketball letterman at Davenport/Central.  He was also All Big Ten in basketball and baseball at Iowa.
Davenport Alum Carl Widseth (Spook) holds University of Tennessee record for attempted free throws - 848 in 88 games. Allan Houston ranks No. 2 with 767 in 128 games - 40 more than Widseth played. Widseth sank 288 in 24 games his senior season and 225 in 21 games as a sophomore. He scored 47 points at Auburn in 1956 and 17 were foul shots (before the advent of the three point line).  "The night he got 47 against Auburn was probably the best any Tennessee player ever played," Retired Knoxville Journal sportswriter and sports editor Ben Byrd said. "He beat Auburn virtually by himself, and Auburn had a great team. Nobody had ever come close to scoring that many points in a game for UT before that."  "(UT Coach) Lowery always said Spook (Widseth) was best player he ever recruited."  Widseth averaged 22 points in six games against Adolph Rupp's famed Kentucky Wildcat teams

Davenport alum Frank Sebolt appeared in two Final Fours with the University of Iowa in 1956 and 1957.
State of Iowa Basketball Hall of Fame Players & Coaches from Davenport/Central include:
Paul McClanahan
Victor Siegel
Jack Spencer
Bob Schulz
Fred Ruck
James Stange
Ken Buckles
Carl Widseth
J. Kenneth Stringer
Coach Paul Moon
Coach Don Grensing
NBA Player:
Carl Widseth, Minneapolis Lakers
The basketball court in George Marshall Gym was named Paul Moon Court in 2019.
Boys Bowling:
Individual State Champion: Brady Krager
3rd place finish – 1
Boys Cross Country
Team Championships – 2
Team Runner Ups – 1
Qualifying State Teams - 8
Individuals Championships – 3
Individual Runner Ups – 3.
Jim Eicken was a 2-time Individual State Champion
Jim Eicken and Rich Fuller have the 1st and 2nd leading State Meet times recorded over the two mile distance.
Jesse Day Team State Championship Coach – 1
Ira Dunsworth Team State Championship Coach - 1
Football
State Championships – 9
Davenport Central owns 9 football State Championships* (Current playoff format started in 1972).  The Blue Devils ended the season undefeated, with 1 loss or ranked #1 27 times.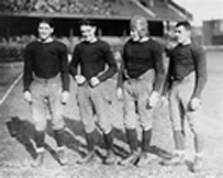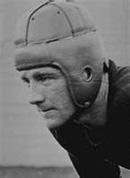 Former Davenport/Central All-Staters who became NCAA Division I Consensus First Team All-Americans
include:
1924: Elmer Layden, Notre Dame, RB (pictured) one of the famed Four Horsemen. Later Notre Dame Football coach going 47-13-3.  NFL Commissioner for 4 years.
1940: George "Sonny" Franck, Minnesota (3rd in Heisman voting won by Tom Harmon). NCAA National Champions. Played professionally for the New York Giants
Former Davenport/Central athletes that later became NFL/AFL Players include:
Ray Kuehl, Dayton Triangles, Rock Island Independants, Buffalo All-Americans, Detroit Tigers
Ralph Claypool, Chicago Cardinals
Elmer Layden, Brooklyn Horsemen, Rock Island Independents
Gus Mastrogany, Chicago Bears
John Oelerich, Chicago Bears, Pittsburgh Pirates (NFL)
Jerry Hillebrand, New York Giants, St. Louis Cardinals, Pittsburgh Steelers (12th pick of 1st round by New York Giants in 1962)
Jim Hester, New Orleans Saints, Chicago Bears (Played both basketball and football and the University of North Dakota)
Jim Jensen, Dallas Cowboys, Denver Broncos, Green Bay Packers (2nd round pick of the Dallas Cowboys in 1976, played in Super Bowl XII)
Roger Craig, San Francisco 49ers, Los Angeles Raiders, Minnesota Vikings (3 time Super Bowl Champion 1984, 1988, 1989, 4-time Pro-Bowler, NFL Offensive Player of the Year, 1st player to rush for and receive 1,000 yards in the same season, 2nd round pick of the 49ers in 1983.)
Jamie Williams, Houston Oilers, San Francisco 49ers, Los Angeles Raiders. (3rd round pick of the New York Giants in 1983.  Played football and basketball at Nebraska)
James Jones, Cleveland Browns, Baltimore Ravens, Denver Broncos, Detroit Lions (3rd round pick of the Cleveland Browns in 1991, Never missed in a game in his 10 seasons)
Julian Vandervelde, Philadelphia Eagles (5th round pick of the Philadelphia Eagles in 2010, Academic All-Big Ten 2007-2010)
Austin Howard, Philidelphia Eagles, Baltimore Ravens, New York Jets
Sonny Gamber was an official in the AFL and NFL, officiated 10 Conference Championships and Super Bowl V.  He also umpired 20 years in Big Ten Baseball and 7 years in the NBA.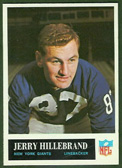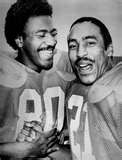 Boys Golf
Blue Devil alum Jack Fleck won the 1955 U.S. Open. Fleck won an 18-hole playoff by three strokes over his idol, Ben Hogan, at the Olympic Club in San Francisco.[4] Fleck's first round deficit of nine strokes (behind Tommy Bolt), was the largest overcome by a U.S. Open winner.  He won 2 more PGA Tour events and won the 1979 PGA Seniors' Championship just prior to the formation of the Senior PGA Tour.  In 1960 Jack lost a PGA Tour playoff to Arnold Palmer.  Fleck was inducted into the Iowa Golf Hall of Fame in 1990.
Team Runner Ups - 4
Individual Runner-up - 1

Boys Swimming
Individual State Championships – 16
Team Placed at State - 5
Doug Walrod was 3-time State champion in the 100M Backstroke
Charlie Cunnick was 3-time State champion in the 500M Freestyle
Boys Soccer:
Boys Tennis
Singles Runner Ups – 3
Doubles State Championships – 6
Doubles Runner Ups – 5
Team Championships – 1
Team Runner Ups – 2. 
State Playoff Format started in 1983.
Track and Field:
Boys Outdoor Track & Field Team State Championships - 13, 2nd all-time
Boys Indoor Team State Championships - 9
Boys State Champion 2005 Outdoor team most points scored all-time
Boys Outdoor Track & Field Team State Runner-ups - 13, most all-time
Boys Outdoor Track and Field - 26 1st and 2nd place finishes – 2nd all-time
Boys Indoor Team State Runner-ups – 7
Boys Mile Team State Champions - 4
Individual State Outdoor Event Champions – 112, 2nd all-time
One of three teams win all 5 relays in a single Outdoor State meet
Outdoor field event champions – 42, most all-time
Outdoor running event champions – 35, 2nd all-time
Outdoor relay event champions – 35, 3rd all-time
Two different Outdoor relay teams in the mile run and 4x100 were State champions 3 consecutives years.
Jesse Day Outdoor State Championship Coach - 5
Jesse Day Indoor State Championship Coach - 6
Ira Dunsworth Outdoor State Championship Coach - 7 (7 in a 12 year period)
Ira Dunsworth Indoor State Championship Coach - 3
Ira Dunsworth elected to Track Coaches Hall of Fame in 1981.
Alum Gayle Hopkins was a member of 1964 U.S. Olympic Track and Field Team in Tokyo.
Chris Walker and Kenny Gilmore won the State long jump competition 3 years in a row and hold the top three jumps in State history with Chris holding the outright record.
Randy Peters Outdoor State Championship in 2005. Randy is the only coach in Iowa High School Sports to win a State Championship in both boys and girls track.
Boys Wrestling:
Team State Championships – 2
Team Runner Ups – 5
Placed at State - 8
Individuals State Championships – 22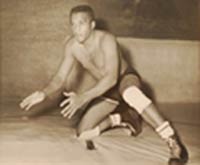 Simon Roberts (pictured at right) became the first black athlete to become a State of Iowa Wrestling Champion. While at the University of Iowa he was the first black wrestler to win an NCAA title. A year later he became the first black Big Ten Wrestling Champion. Simon Roberts continued to make history after graduating from Iowa. He became the first black coach of any sport at any high school in the Quad Cities when he took the wrestling coach position at Alleman High School.  Simon then went on to become the first black to hold elective office in his hometown of Davenport.

Jim Leach, 1960 State Champion served 30 years in the United States House of Representatives. He co-sponsored Gramm-Leach-Bliley Financial Services Modernization Act in 1999, a landmark bill relating to the banking industry.
In 2023 the wrestling room at Central High School was named in honor of Simon Roberts.
Girls Bowling:
State Championship – 1
Girls Swimming:
Individual State Champion: Hannah Cousins 100 yard backstroke
Runner up: Hannah Cousins 100 butterfly
Team State Participants 1971-1978, 2021 & 2022
5th place team finish 2022
Runner up: team 200 free relay (Hannah Cousins, Isabel Heller, Simone Green, Lauren Valleroy)
Third place: team 200 medley relay (Hannah Cousins, Isabel Heller, Gabbie Hanson, Simone Green)
Team State Championships from 1972-1978
State participants from 1971-1978

Girls Track & Field State Champions - 2
2-time State Champions (1982, 1984)
Davenport Central's Alexis Mitchell and Christina Airington were State Champion Long Jumpers for 4 straight years with Christina winning three consecutive years
Vivian Hardy also won the State Long Jump two consecutive years
Almetha McNeal owns the 8th fastest 100 meter dash in State history and won the championship.
Vivian Hardy holds the 18th fastest 100 meter dash in State history and also won the championship
Central owns the 9th  fastest time in State history in the 4x200 relay and 11th fastest time in the 4x100 relay
Central's Allanah McCorkle, Jasmine Butler, Shaianne Thomas, and Tadaisha Thornton own the State record in the 800 meter relay
Central has various other State Champions in the 100 meter hurdles, 400 meter hurdles, distance medley, and 4x100 relay
Randy Peters Outdoor State Championship Coach 1982 and 1984.
4-time State Meet Running Champions
3-time State Meet Relay Champions
7-time State Meet Field Champions
Vivian Hardy won 3 State Meet Championships in 1982.
Girls Volleyball